VegNews Food Lover's Tour of Thailand with VegVoyages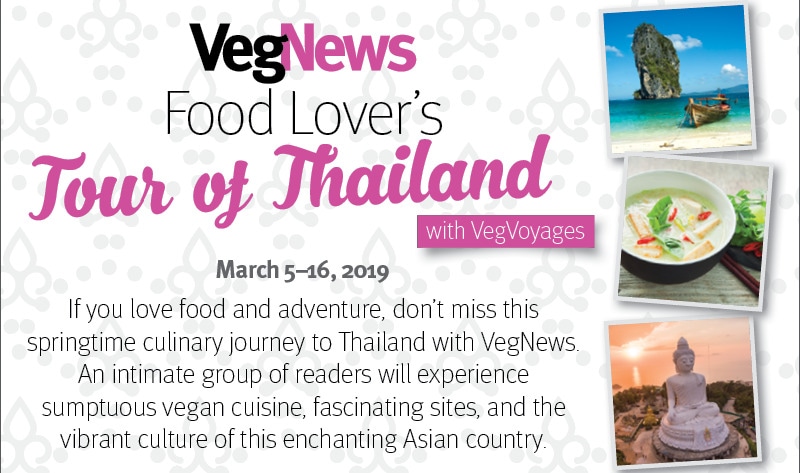 Our previous VegNews Food Lover's Tours to Thailand with VegVoyages sold out within days, so we're ecstatic to be returning to this magnificent country in 2019! This incredible culinary journey will be packed with market excursions, cooking classes, delicious vegan food, cultural experiences. and so much more. Join VegNews for an unforgettable 12 days to this magical destination. Highlights include:
Dine at Thailand's best vegan restaurants
Meander through bustling produce markets
Take vegan Thai cooking classes
Explore the backstreets of Bangkok
Visit an all-women vegetarian monastery
Wander through a vegetarian market
Travel by gondola through peaceful canals
Island hop and snorkel in the Andaman Sea
Visit a wildlife rehabilitation center
Savor a BBQ on the Maeklong River
Revel in a two-hour Thai massage
**12 days/11 nights**
March 5–16, 2019
Just $2995 per person
Price includes all meals, accommodations, transportation in Thailand, cooking classes, site entry fees, guides, and airport pick-up and drop-off. Only airfare and personal purchases are up to you!
Click here to read the full itinerary
Click here to download flyer
Click here to reserve your space
Want more information? We'd love to help!
Contact 877-Veg-Voyages, x709 or vegnewsvacations@vegvoyages.com
Source: vegnews.com
VegNews Food Lover's Tour of Thailand with VegVoyages