23 Plant-Based Protein Recipes If You're Cutting Back On Meat
No meat? NBD.
Apple Cinnamon Quinoa Breakfast Bowl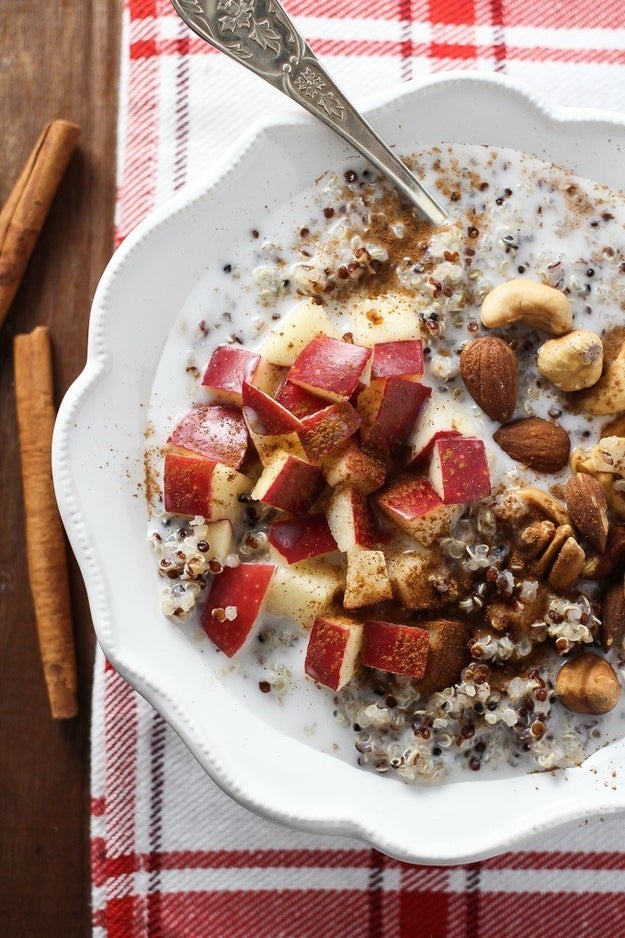 Start the day off right with this quinoa porridge (P.S.: It actually tastes more like dessert than breakfast). Get the recipe.
Maria Ushakova / Via mariaushakova.com
Flourless Chickpea Peanut Butter Pancakes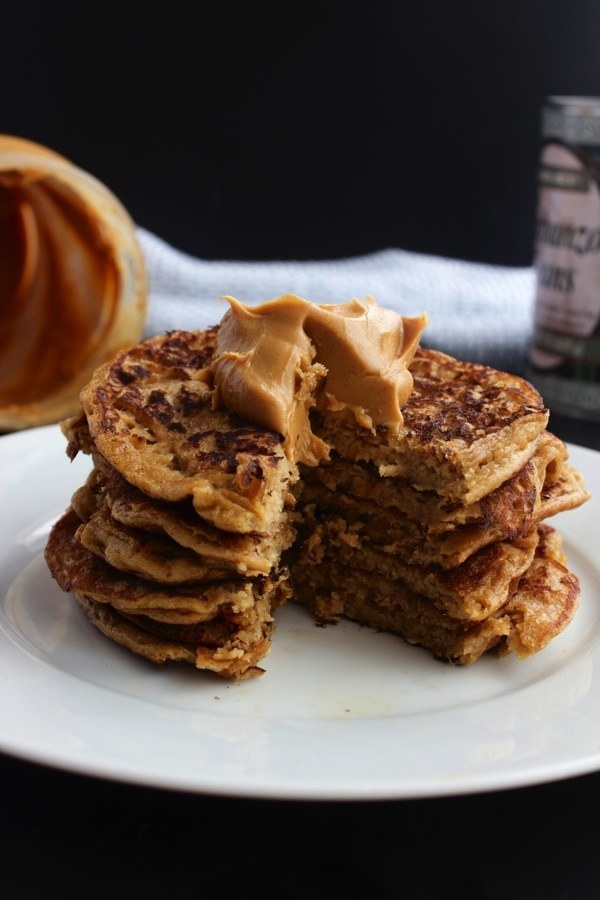 Thanks to peanut butter, almond milk, vanilla, and maple syrup, you'd have no idea you're eating chickpeas for breakfast. Get the recipe.
The Almond Eater / Via thealmondeater.com
Spicy Tofu Scramble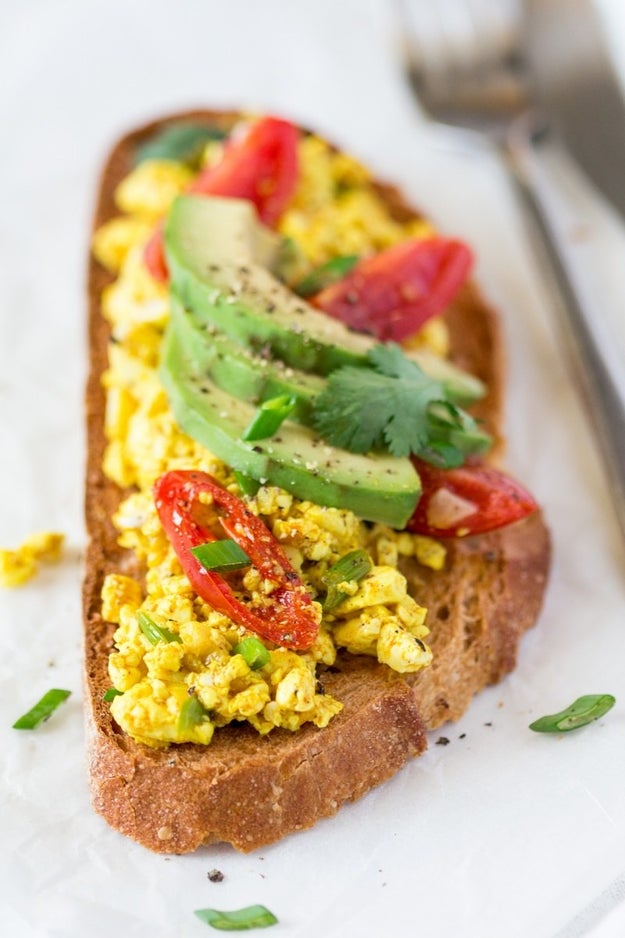 Trying to avoid eggs? This tofu scramble is the perfect breakfast addition to a vegan diet. Get the recipe.
Lazy Cat Kitchen / Via lazycatkitchen.com
Edamame Black Bean Burgers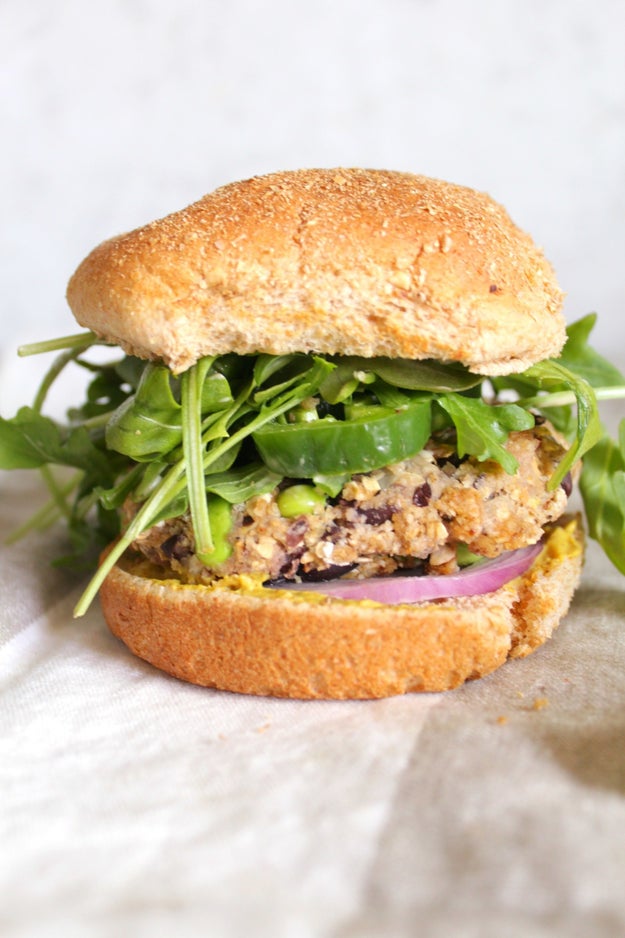 Dress up this bean burger with anything from avocado and spicy mayo to sun-dried tomatoes and arugula. Get the recipe.
This Savoy Vegan / Via thissavoryvegan.com
Crispy Buffalo Tofu Bites with Garlicky Yogurt and Feta Dip
Make these as a party appetizer…or just for yourself. Get the recipe.
Killing Thyme / Via killingthyme.net
Quinoa Fried Rice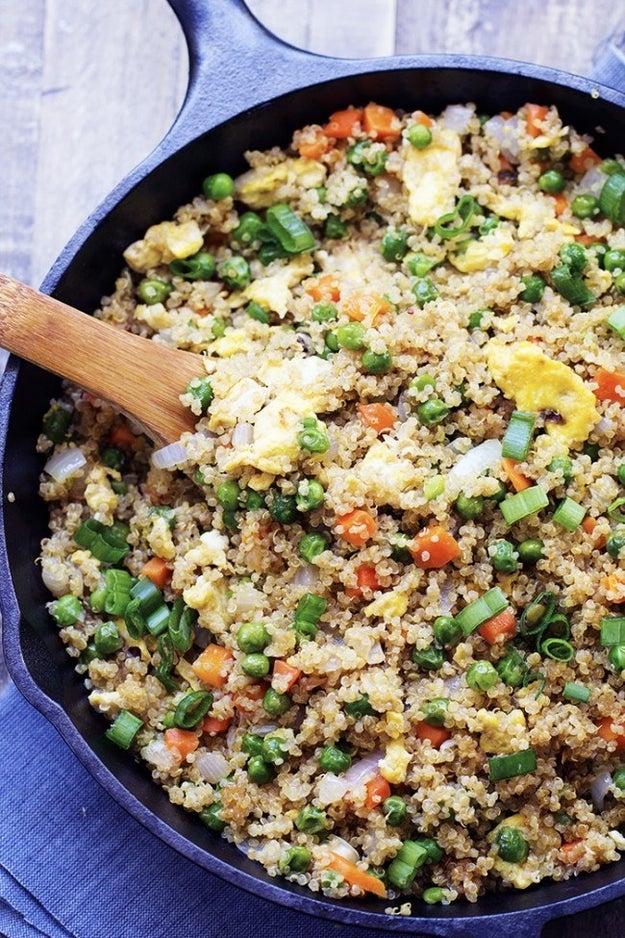 Everyone's favorite Chinese dish gets a better-for-you twist. Swap rice for quinoa and load it with your favorite stir-fry veggies. Get the recipe.
The Recipe Critic / Via therecipecritic.com
Spanish Chickpea and Spinach Stew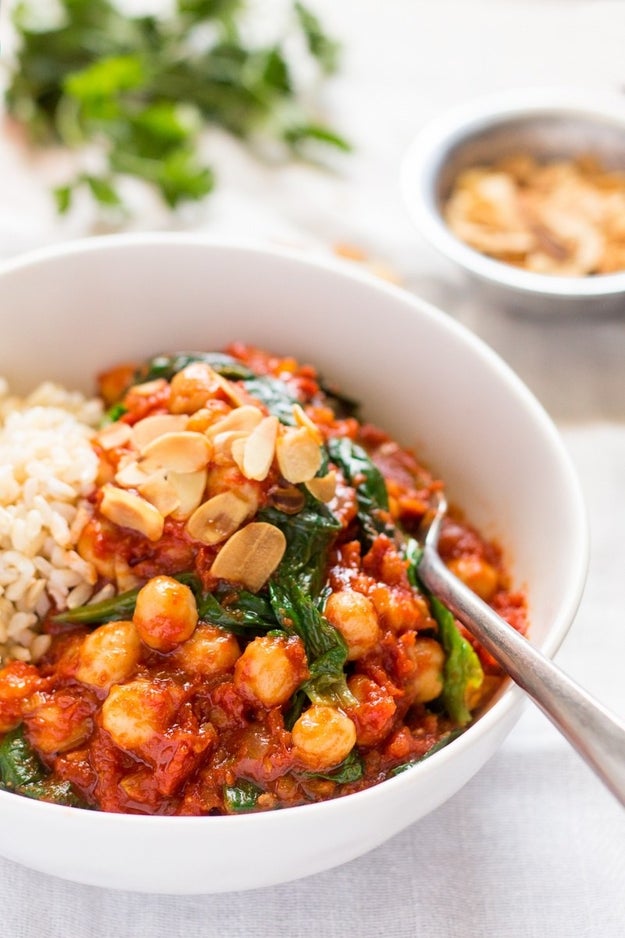 The majority of this recipe can be made with ingredients you probably have sitting in your pantry and spice cabinet — like canned chickpeas and tomatoes, cayenne, paprika, and chili powder. Get the recipe.
Lazy Cat Kitchen / Via lazycatkitchen.com
Stuffed Portobello Mushrooms with Crispy Goat Cheese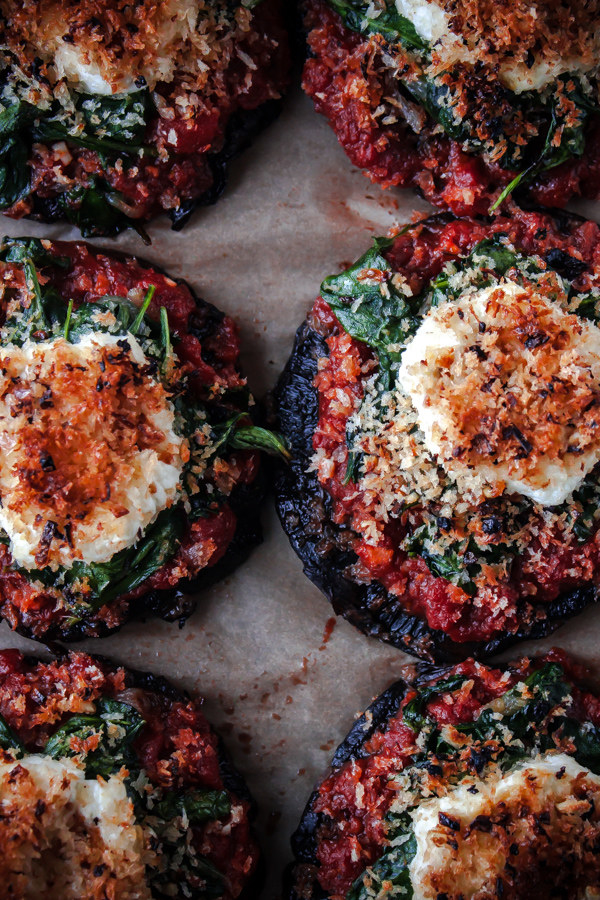 If you need proof that vegetarian meals can still feel totally decadent, look no further. Get the recipe.
A Beautiful Plate / Via abeautifulplate.com
Ginger and Lemongrass Thai Soup with Crispy Tofu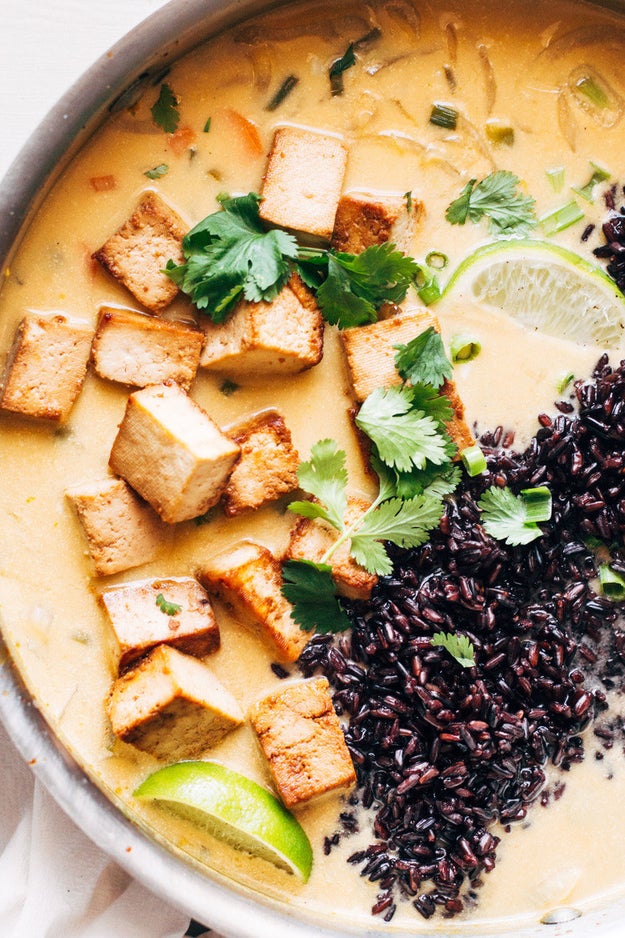 Lemongrass, ginger, coconut milk, sesame oil, and soy sauce make this soup the perfect mix of sweet and tangy. Get the recipe.
Sobremesa Blog / Via sobremesa-blog.com
Kale, Edamame, and Quinoa Salad with Lemon Vinaigrette
Loaded with edamame, quinoa, and avocado, this salad will fill you up and make you feel good. Get the recipe.
Ambitious Kitchen / Via ambitiouskitchen.com
Spicy Eggplant, Chickpea, and Chard Shakshuka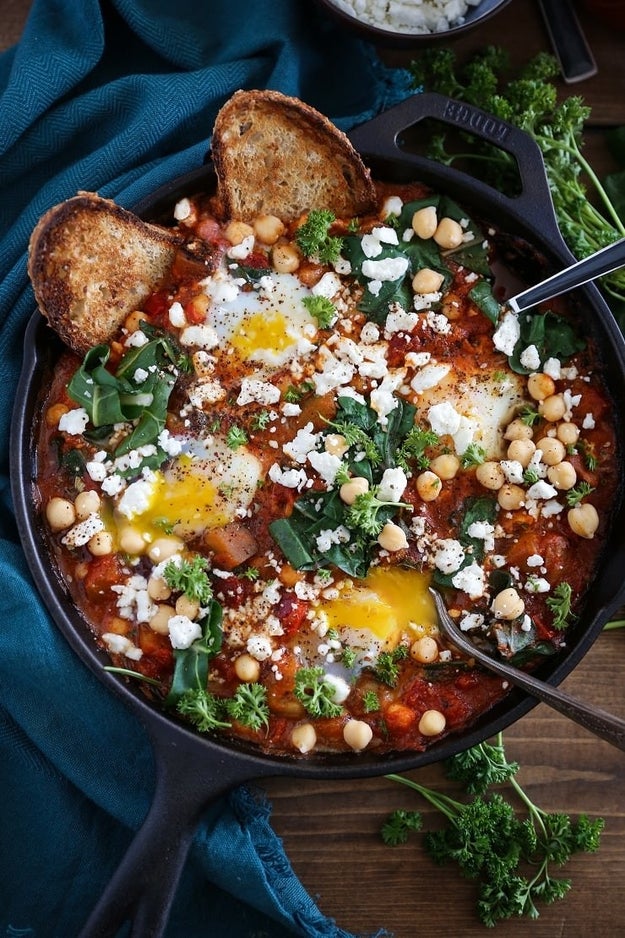 Whip up this skillet recipe for breakfast, lunch, or dinner. If you're trying to avoid dairy, just skip the crumbled feta. Get the recipe.
The Roasted Root / Via theroastedroot.net
Baked General Tso Tofu
Marinated in soy sauce, maple syrup, and a little cornstarch, this tofu gets super crispy without any deep-frying. Get the recipe.
Omnivore's Cookbook / Via omnivorescookbook.com
Creamy French Lentils with Mushrooms and Kale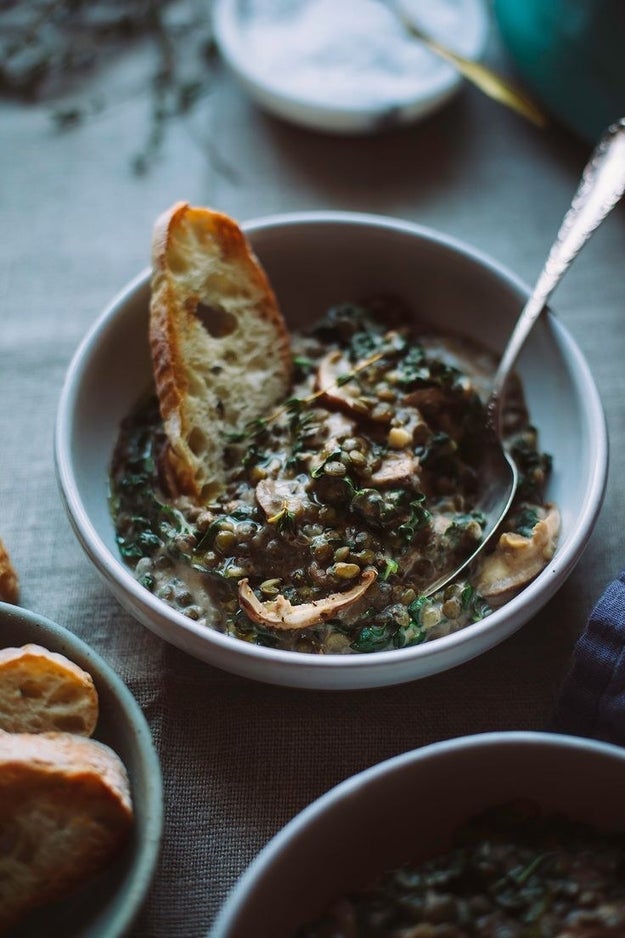 The key to this recipe is the creamy sauce made with mixed mushrooms, garlic, thyme, white wine, coconut milk, and and tamari.
The First Mess / Via thefirstmess.com
Sweet Potato and Black Bean Burrito Bowls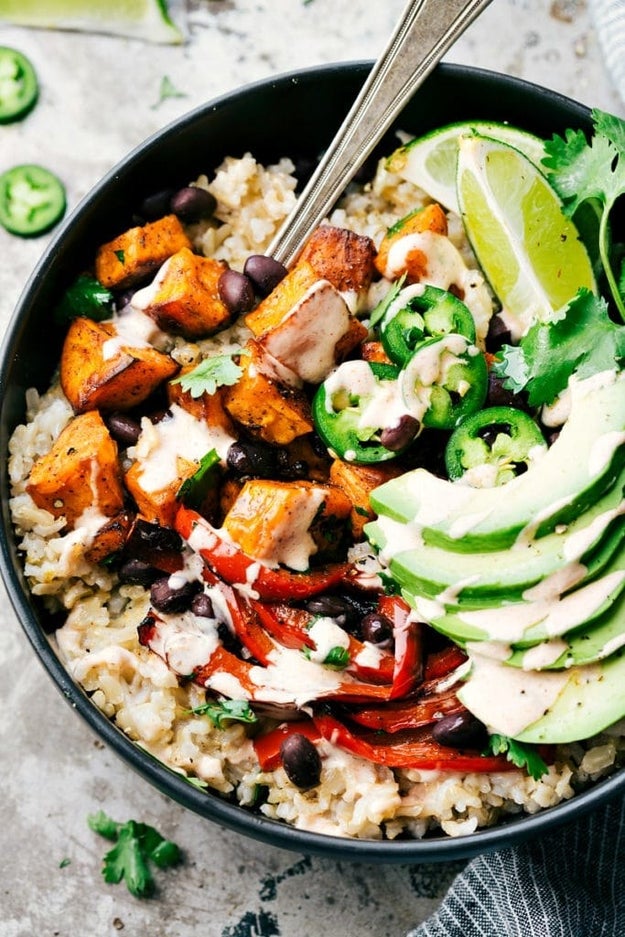 You can substitute your favorite grain for the rice in these versatile burrito bowls. Get the recipe.
Chelsea's Messy Apron / Via chelseasmessyapron.com
Yummy Mummy Kitchen / Via yummymummykitchen.com
Spicy Black Bean Soup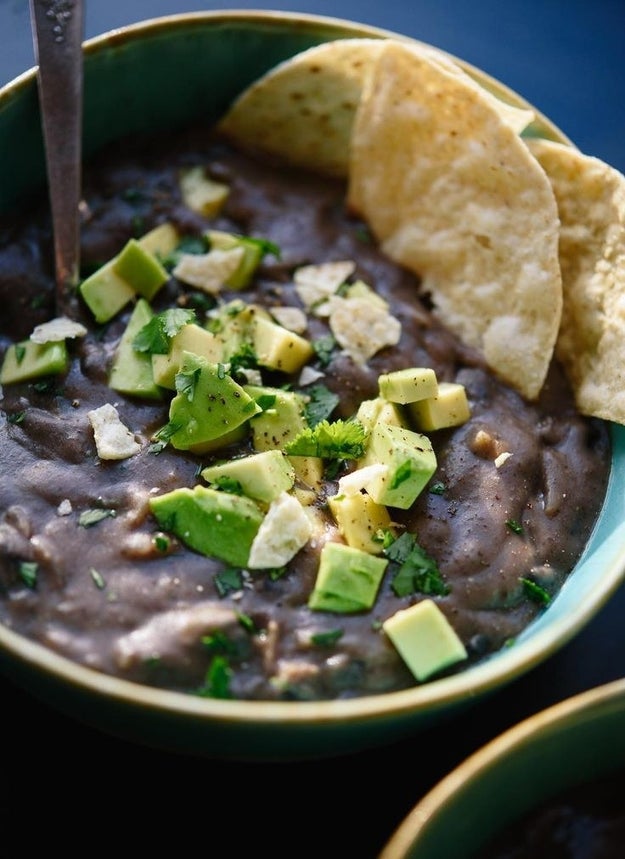 Loaded with beans and veggies, this hearty soup will warm you up from the inside out. Get the recipe.
Cookie and Kate / Via cookieandkate.com
Minimalist Baker / Via minimalistbaker.com
Source: buzzfeed
23 Plant-Based Protein Recipes If You're Cutting Back On Meat